Having lived and trained in London and now based in Berlin, Simone is bilingual in English and German as well as being fluent in French.
With her background she has acquired a special set of skills ranging from coaching voice, accent and singing as well as voice related relaxation techniques.
She has also worked as a translator and dramaturge.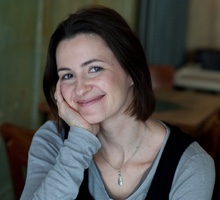 Training:
• London Institute of Education (PGCE)
• Central School of Speech and Drama (MA Voice Studies)
• Certified Consultant Facilitator in 3in1Kinesiology
• Newcastle College (Graduate Diploma in Popular Music)
Simone has trained and continues to work with voice experts such as:
• Julia Wilson Dickson (dialect coach a.o.: 'CLOUD ATLAS')
• Barbara Houseman (author of: Finding Your Voice)
• Gillyanne Kayes (author of: Singing and the Actor)

Further activities:
• guest speaker at the VASTA conference, Royal Scottish Academy of Music and Drama
• publication Teaching Shakespeare bilingually, VASTA Voice and Speech Review, US
• article: ACT IN THE LANGUAGE (and not let the language act you)

Simone is a member of the ICV (International Centre for Voice).